Autobiped Script Auto Rigger into Biped System for 3dsMax
The script will convert any character rigged using Mixamo auto-rigger into a Biped system in 3dsMax 2010, 2011, 2012.
The process is as follow:
1. Make sure you have the latest FBX plugin for 3dsMax (tested with 2012.1 in May 2011).
2. File -> Import the rigged character in FBX format.
3. MAXscript -> Run Script and select the Autobiped.ms.
4. Click on "Create Biped" and enjoy.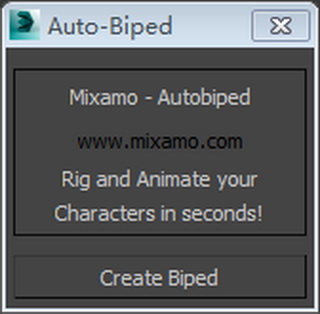 The original character skeleton is left in the scene for reference and can now be deleted.
The character is now bound to the Biped system and the skinning weights transfered.
Version Requirement: 3dsMax 2010, 2011, 2012

Author: Mixamo

Download: Autobiped script download