IESviewer Version 3.5
IESviewer is a popular photometric viewer tool. It lets you quickly view, find and convert photometric data files(IES and LDT files). IESviewer is freeware, the latest release of IESviewer (Version 3.5) is available now!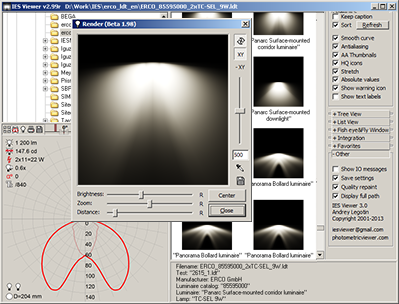 Features of IESviewer, including:
■ view photometric curve
■ description of the photometric files
luminaire manufacturer

luminaire catalog number

lamp catalog number

lamp description

photometric type

intensity

dimension of luminaire

input watts
IESviewer support:
■ unique curve and render realtime thumbnail of photometric files
■ unique navigation by description instead of filename:
luminaire manufacturer (MANUFAC)

luminaire catalog number (LUMCAT)

luminaire description (LUMINAIRE)

lamp catalog number (LAMPCAT)

lamp description (LAMP)
■ ultra fast preview
■ realtime renderer
■ comparing two photometric curves
■ converting LDT to IES and IES to LDT (new!)
■ Autodesk 3ds Max integration
■ 3dsmax compatibility indicator and fixing tool
■ available integration with other applications
■ dragging files (copy to explorer, other applications)
Notes:
Download IESviewer 3.5, include IESviewer, automatic 3dsmax integration and (.ies) & (.ldt) file association.
If you have 3dsmax x64bit:

Install this package.
From dropdown menu choose "Script only".
Download it.
Replace "<3dsmax root="">\stdplugs\stdscripts\iesviewer2.ms" file.
Start 3dsmax, select: "Customize menu"/"Customize User Interface"/Toolbars. Choose category "IESViewer". Select "Set IES To Light" action. Drag it to main toolbar.